Murran is currently still under construction, due to open July 2023. Sign up to our newsletter to stay up to date.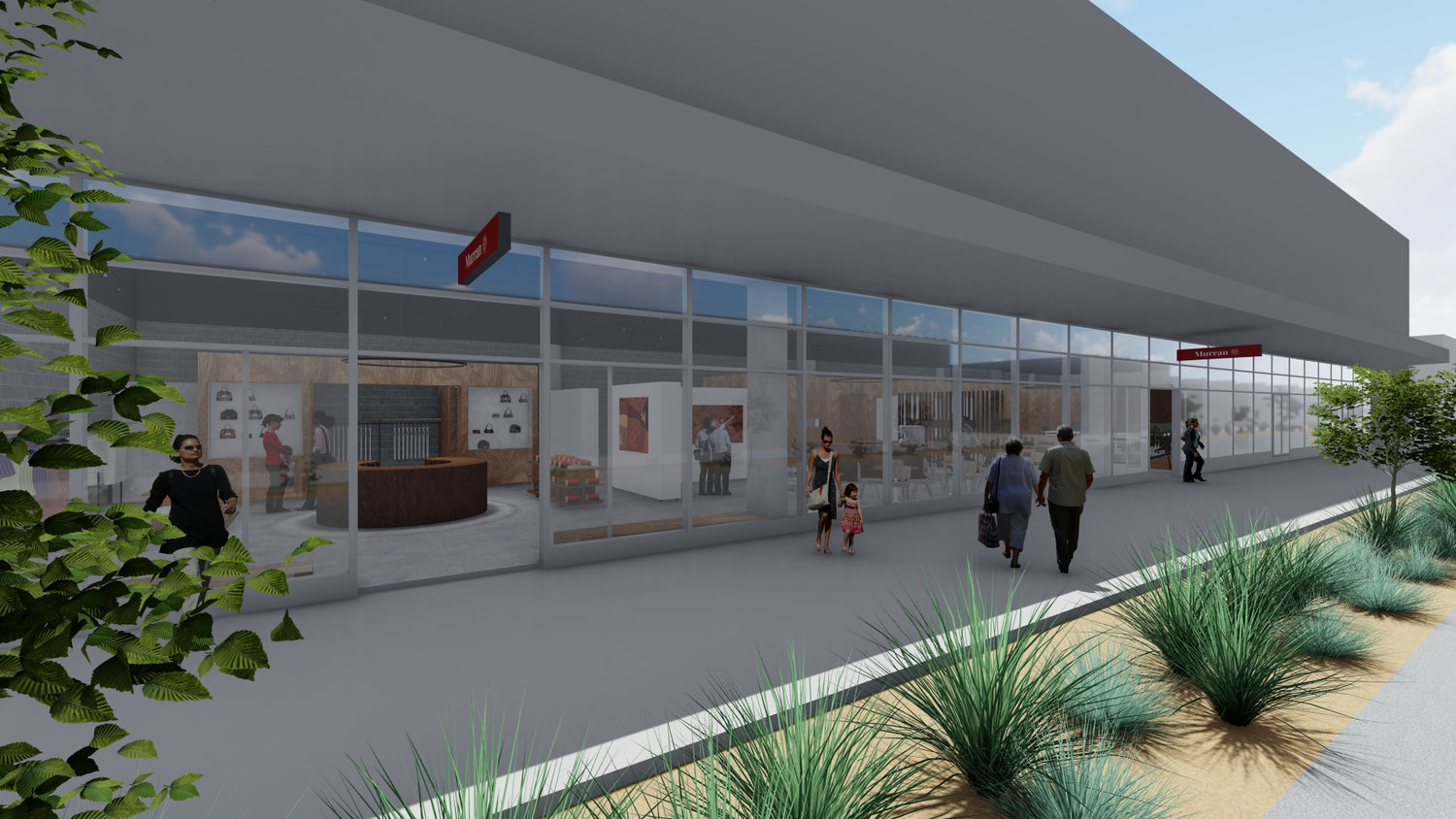 Murran, led by Ngarrimili, was designed to nurture and support Aboriginal and/or Torres Strait Islander individuals through creating prosperous opportunities and advancing economic development among individuals and their families/communities.
Murran is a hub for Aboriginal and/or Torres Strait Islander individuals to access and thrive within. Consisting of a retail store (selling Aboriginal and/or Torres Strait Islander owned products), a gallery (selling and showcasing the amazing art of Aboriginal and/or Torres Strait Islander artists and creatives), a cafe, a co-working space (with hot desking opportunities), meeting rooms, conference rooms (that can be accessed by non-Indigenous partners, individuals and organisations), and an events space.
'Murran', meaning Eucalypt Leaf in Wadawurrung language was chosen as the name for this Business, Retail and Arts Hub.
Eucalypt leaves, a welcome gift, smoked to cleanse, crushed, and boiled to heal. Wadawurrung people would wear Eucalypt on their bodies and men would place them on their spears as a sign of peace to come together with no harm, to gather in peace on Country. Eucalypt trees grow and prosper from the waters of Country, the nourishment that our Mother Country gives. Eucalypt are a connection to all Peoples living on or off Country.
About the Branding
The word Murran meaning Eucalyptus in the beautiful Wadawurrung language was my key focus in creating my artwork for Murran.
I drew inspiration from the parallel values between Murran (eucalyptus) and the way it is used in our culture and how this is reflective of Murran and how our community will be able to engage with the space.
Our connection to the Eucalypt in our culture is way in which we connect to the lands, our Ancestors and with each other. Coming together in meeting places for smoking ceremonies, to heal, share knowledge and ideas to help each other thrive.
This relates to the whole spirit of Murran which will be a place to come together to share ideas in a safe and collaborative space.
My artwork depicts all of these values and connections, I wanted to capture this in a simplistically but beautiful way, I have captured all of the elements of a smoking ceremony which represent all of the above, you can see the Murran leaves the fire and smoke/spirit and in the centre is a meeting place with our people gathered together sitting in the Murran seed pod's waiting to blossom.

Gerard Black
Baiyami Art
Our Supporters
Ngarrimili

Marsha Uppill - Arranyinha

Corrina Eccles - Wadawurrung Traditional Owners

Cormach Evans - Strong Brother Strong Sister
Kirra Mee - Jumpsuit Babywear

John Laney Constructions

La Marzocco

Department of Jobs, Skills, Industry and Regions
Scentre Group

Christine Couzens

Wadawurrung Traditional Owners

Give Where You Live Foundation
Tim Birnie Design Studio

Empower Digital